I've got a
Punch-Out!!
bug, and I'm doing all sorts of
Punch-Out!!
-related stuff. So, I felt like doing some character battle/polls with various
Punch-Out!!
characters. These will be characters from the entire
Punch-Out!!
series, including Disco Kid from
Punch-Out!!
for the Wii. It'll go like this: there will be a one-on-one match between two
Punch-Out!!
characters during this first round. Whoever wins will go on to the next round and face off against another
Punch-Out!!
opponent. This will go on until we reach the final round and find out who is the best boxer of them all! I might even consider writing some actual character battles for them, with Ref Guy fighting with Mario over who should referee the match. But, I'll consider that later. If you don't know who some of these characters are, I suggest you go to these sites, and look them over:
http://punchout.vgfort.com/index.php
http://punchout.wikia.com/wiki/Punch-Out_Wiki
Our next round has two major fan favorites! In this corner, we've got one of the most recurring boxers in the series! Hhe may be bald, but he's got the power of a bull! Weighing in at 298 lbs., it's Bald Bull!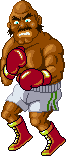 "Once I charge, you'll be down for the count!"
And in this corner, we've got the biggest boxer of them all! Leader of a tropical tribe on an island in the Pacific! The heavyweight wonder, KING HIPPO!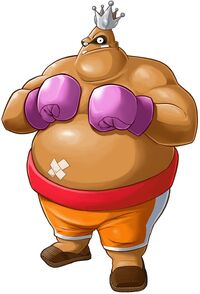 "I have my weakness. But I won't tell you! Ha Ha Ha!"
You don't have to, it's pretty obvious where your weakness is. Anyway, fighters ready? And...
Ref Guy: Fight!
PS, talk about the upcoming
Punch-Out!!
game for the Wii,
here!