Sandbag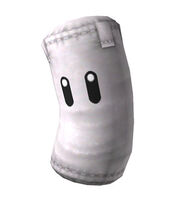 vs.

Bowser Jnr
Toads Castle Championship Rematch: Sandbag vs Bowser Jnr
Announcer: OKAY EVERYONE, LETS GET READY TO RUUUUUUUUUUUUUUMBLE!!!!!
*Bowser Jnr's Theme Plays*
Bowser Jnr makes his way to the final Destination ring again and this time has enragement within him from losing last week.
Bowser Jnr: I will crush him this time.
*Sandbag's Theme Plays*
Sandbag hops all the way to the Final Destination ring and hops on. He stares at Bowser Jnr waiting for the announcer to sound the bell.
Announcer: Before this match commences, this match has no disqualifications and no weapons.
*Ding ding ding*
Bowser Jnr spins around Sandbag several times as he made him totally dizzy as Bowser Jnr picks up Sandbag and throws him down beside.
Then Sandbag hops up and goes to smack him with his torso, but Bowser Jnr crouches and uses his spikes and stabs inside of Sandbag, but does no affect, only some sand to fall out.
Then, Bowser Jnr hops on top of Sandbag's head and begins to jump on him several times, but all Sandbag does is jump and smack Bowser Jnr down the ground.
Sandbag gets up as Bowser Jnr couldn't because his spikes we're in the ground and struggling to get out.
Sandbag then hops all the way to the otherside of the ring and hops as fast he can back to Bowser Jnr, and body slams him with such full power.
Sandbag stays on top of him as a ref counts to three.
Ref: 1...2...3
*Ding ding ding*
Announcer: Sandbag wins!
The Ref comes and gives Sandbag his belt again and is still the Toads Castle Champion.
Bowser Jnr however woke up and went to talk to the Announcer if he could have just one last chance to fight for the TC Championship. The Announcer said only if he participates in the event called "Last Chance Match* in 2 weeks time.
Sandbag walks away as Bowser Jnr stares at him and swears he will get that title and be Toads Castle Champion.
Bowser Jnr runs to Sandbag and ambushes him from behind as he stares down at Sandbag as he was on the ground unconcious. Bowser Jnr clucthes his fists with vengeance and anger and badly wanting the TC Belt.
Stay Tuned for the upcoming event "Last Chance Match" in 2 weeks time.