Sandbag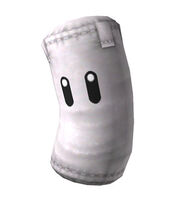 vs.
Bowser Jnr
Toads Castle Championship Match: Sandbag vs Bowser Jnr
Hello & welcome back to the Toads Castle series where tonight we will feature our Champion of Toads Castle Sandbag up against Bowser Jnr who will be fighting for the championship.
*Bowser Jnr Theme Plays*
Bowser Jnr makes his way to the ring which I believe is...Final Destination
Anyways since they call Final Destination a ring, Bowser Jnr hops on and waits for Sandbag to get in.
*Sandbag's Theme plays* which is a rather such strange theme that we have never heard before.
Sandbag jumps into the Final Destination stage and they prepare to fight.
*Ding ding ding*
Sandbag flies at Bowser Jnr and smashes him at the face, Bowser Jnr is hurt badly in the face but punches Sandbag but has no affect. Sandbag then jumps ontop of Bowser Jnr's head and stomps on his head. Bowser Jnr was on the ground unable to get up, as Sandbag was standing on his shell avoiding the spikes however.
Sandbag hops off as Bowser Jnr gets inside his shell and goes to roam into Sandbag, however no affect again, and Sandbag body slams Bowser Jnr by the head only.
Bowser Jnr in so much pain as he then grabs his Brush weapon and smacks the hell out of Sandbag as he fell unable to get up.
*Ding ding ding*
Announcer: NO STOP, BOWSER JNR YOU HAVE BEEN OFFICIALLY DISQUALIFIED, NO WEAPONS. SANDBAG WINS AND HOLDS HIS TITLE AND IS YET THE TOADS CASTLE CHAMPION!!!
Bowser Jnr: WHAT NOOOOOOO! I WANT A REMATCH THEN.
Sandbag down the ground totally unconcious.
Stay Tuned for next weeks rematch between Sandbag and Bowser Jnr.